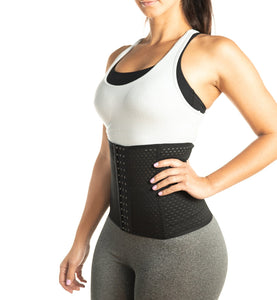 Waist Training Corset - Body Shaper For Women!
This waist trainer is perfect for everyday wear! Breathable and lightweight, this mesh corset is comfortable and great for beginners or anyone new to waist training, while still great for shaping those curves you want. With a classic 3 column hook-and-eye closure design, the trimmer allows you to adjust sizing as needed! The flexible design ensures your lumbar is supported and improves your posture while being comfortable enough to wear at all times.
Trims & Tones- The abdomen is one of the hardest parts of the body to trim and tone. Waist training corsets are designed specifically to shape your tummy and defining your waistline for a sleek, curvy silhouette. Besides trimming your waist, this body shaping trainer will also give you a trim line from your hip to your chest.
Discreet under clothing: You can wear virtually any clothing over it without any discomfort and no one will know you're wearing it.
Firm but also flexible: The Waist Shaper is made using superior steel bone construction. The 4 steel bones are just as soft as plastic bones but have much better flexibility and recover instantly. This allows for the shaper to be firm enough to take inches off your waist but flexible enough that it won't impact your day to day activities.