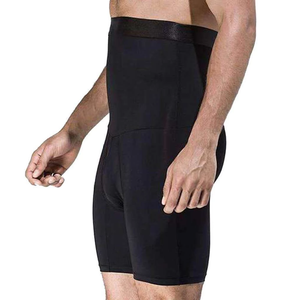 Men's High Waist Stomach Compression Briefs
Get the ab definition you strive for! The StabilityPro High-waist AB briefs, fits like your favorite underwear and will make you look up to 5 inches slimmer instantly. Comfortable, supportive and stomach enhancing—they will instantly change the way you look and feel in your clothes.
This super breathable, quick-drying compression men's girdle is made from fabric that improves circulation and optimizes muscle performance, as well as shapes your figure instantly while promising lasting results in the long run.
This high waist control boxer brief can be the extra support you need during workouts or hard labor or used just to achieve the ideal physique you're headed for. Its fast-drying anti-odor material is perfect for everyday or all-day wear. A perfectly good boxer brief that adds ab definition and body support.
High-quality construction and high elasticity for maximum support and freedom of movement.
Instantly shape & tone for your waist, hips, thighs, and legs.
Breathable, Anti-Odor, Anti-Bacterial Moisture wicking Fabric
Reduces 3-4 sizes.
Built-in back support
Perfect for every day or all-day wear.
Controls entire abdomen
Take full control of your waistline. Drop 3-4 size instantly. Feel good and look great using this comfortable girdle.