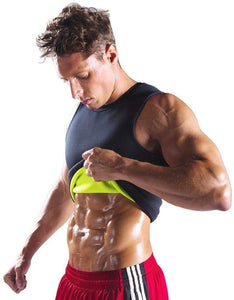 Mens Sauna Shirt - Sweat Faster ~ Burn Fat!
RUNS SMALL! Choose 2 sizes larger than normal!
BURN FAT: Designed to maximize the fat-loss and muscle toning results that you're aiming for when working out at the gym, you'll reach your fitness goals faster and easier than expected with significantly less effort!
FAST ACTING: By heating up your muscles and making you sweat 3 times more than usual, the thermal vest helps you prevent post-workout fatigue and injuries, release toxins at skin level, speed-up the calorie burning process and trim inches off of your waist quicker.
UNIQUE DESIGN: One of the key calorie-burning enhancing features that the vest has is the internal thermal active layer, which stimulates perspiration and significantly speeds-up your metabolism.
SHAPE YOUR BODY: Flatten your abdomen and eliminate unsightly back rolls instantly. Ultra-lightweight with a second-skin flexible fit, ideal to be worn during daily activities and workouts.

THE SUANA SLIMMING VEST THAT REALLY WORKS & NEVER TEARS
The UptownFab weight loss vest is uniquely designed to insulate heat and stimulate fat & water loss in the waist area. It works like a mobile sauna suit for your waist, burn your belly fat and make weight loss more effective. It can also help improve blood circulation & get rid of toxins by promoting sweating while exercising.
Shocked! Love the vest, I sweat like crazy & wear it every day !
-Jay Robbins 
Just returned from our vacation and wore my shirt for the first time at the gym. Worked great and am looking forward to shedding the fat. Works great without any restrictions during my workout.
 -Timothy Cowen
5/5 Stars. It is a very great Sauna vest and I use it basically all the time.
-Daijiion Smith 
I love my new sauna suit vest. I recommend this vest and will be buying another one!
-Elias Duran